Heating & boiler installations
7 year warranties available on Worcester-Bosch & boilers fitted by PGS Plumbers.
PGS Plumbers specialise in London boiler installations and fitting new central heating systems. Our engineers are Gas Safe (formally Corgi) registered and fully qualified to install and fit all forms of central heating systems and equipment:
Entire central heating systems
Peace of mind - long guarantees
Boiler installation & replacement
High efficiency hot water cylinders
Radiators & heating controls
Full range of gas boilers available
Contact PGS Plumbers today to arrange your free consultation and survey.
Free Advice & Quotes: 0203 674 1686
Quality workmanship and ongoing support
When you instruct PGS to carry out your boiler or heating installation work you can rest assured that you're in safe hands. Operating in the London area as well as across the South East region, we're flexible and trustworthy and most importantly we always work to find solutions to meet customer expectations and budgets. PGS Plumbers also offer the following level of plumbing and heating service:
Extended warranties on boilers
expertCare heating cover packages
Local engineers always available
Full range of money saving options
PGS guarantee with every installation
Choice of competitively priced boilers
Saving money
Replacing ageing boilers and heating components will result in a more efficient heating system that will last longer and cause you fewer problems over the long term. You will benefit from the lower cost of maintenance as well as reduced fuel bills.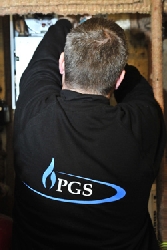 Repair or replace
Sometimes it's worth repairing an existing boiler rather than incurring the additional expense of new boiler installations. You can count on receiving a frank and honest assessment from your experienced PGS engineer, who will advise you on the best course of action for your situation. Furthermore, both our work and the boilers we install are guaranteed, so you can rest assured you will always receive the highest standard of service from PGS.


Which boiler?
We are not tied to any one boiler or component manufacturer, which means we'll listen to your requirements and suggest the heating parts and boilers to best suit your needs and your purse. Read our Boiler guide to decide what type of boiler is right for you.
Legislation
A recent change in legislation requires that all new gas installations are logged with the local authorities. This is essential for when the time comes to sell the property or if you plan to rent it out. It is worth noting that not all engineers (even those that are Gas Safe registered) are qualified to make the required notification.
As a value added service, and potentially saving you a substantial sum of money, your PGS engineer will always carry out this formality on your behalf.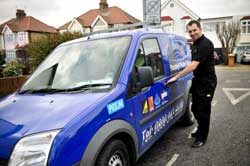 Contact PGS Plumbers today for free boiler and heating advice and quotes.
Call now for
free advice & quotes
0203 674 1686
Enter your details below
and we will call you back.
Book Online


Enter your

postcode


for availabilty and bookings

We accept all major credit cards

"Just wanted to say thanks and commend the good work done by Richard to our boiler."


Tariq, Weybridge
"Very efficient and friendly. Excellent extra mile customer service."


Denise, Croydon
"Is there a 'Tripadvisor' for plumbing & heating jobs so that I can tell the world just how good PGS is?"


George, Islington
"Having been impressed I would have absolutely no problem in recommending your firm to others."


Mr Calderbank, SE19
"I have never dealt with such a professional boiler engineer before, I was shocked."


Jeremy, SW11
"Thank you for the prompt and high-quality service - very appreciated."


Mr Clark, KT10