Expert powerflushing services
There are many methods used to flush central heating systems some are very basic and limited in effectiveness.

Powerflushing is proven to be the fastest and most effective way to flush heating systems, and involves minimal disruption and dismantling. If your central heating system suffers from any of the symptoms detailed below it would almost certainly benefit from Powerflushing.
Central heating system slow to warm up
Some radiators partially or completely cold
Radiators require frequent bleeding
Water in radiators is discoloured and dirty
Radiators have perforations and leakages
The boiler makes kettle-like noises
Regular heating pump failures
Warm water in the header tank
Call today for an instant Powerflush quote
0203 674 1686
Many of our Powerflushing customers are choosing for us to Powerflush their system in order to reduce their fuel bills, make their heating systems more energy efficient and so environmentally friendly, and ensure they avoid many of the common – often costly - problems that can frequently affect central heating systems
A Powerflush can restore circulation and efficiency to your central heating system by removing undesirable by-products. This simple process purges them from the system, replacing aggressive water with clean water, which is chemically treated with corrosion inhibitors to help prevent similar problems in the future.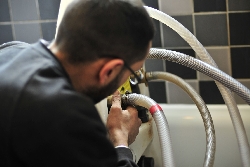 Our London plumbers are fully-trained in using the Powerflushing equipment and we will ensure that the process is carried out with the minimum of disruption to your home and routine.
There are many benefits to Powerflushing your central heating system, including:
Increased efficiency to central heating and hot water
Lower fuel bills
Radiators heat output maximised
The whole central heating system is cleaned including under floor pipe work
Aggressive water is removed; further water treatment prevents corrosion
Helps cures and prevent boiler noise
Sludge removal and de-scaling in one visit
Validates boiler warranties
Usually completed within one day
Advice & Quotes: 0203 674 1686
Contact us today for prices and further information about Powerflushing your heating system and its many benefits.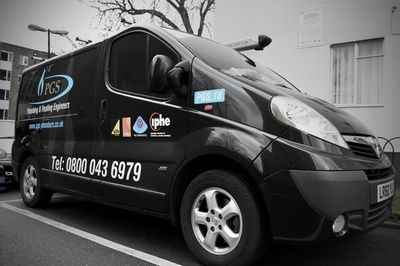 Call now for
free advice & quotes
0203 674 1686
Enter your details below
and we will call you back.
Book Online


Enter your

postcode


for availabilty and bookings

We accept all major credit cards

"Everything went smoothly and to time and it was great to have such professional people to deal with."


Mr & Mrs Watkins, KT2
"I was very pleased by the way you sorted out the plumbing problem."


Mike, Teddington
"I am very very pleased with your engineer...he seems to understand the system so well."


Mrs Keith, TW10
"Tom turned up exactly on time, gave a clear explanation and then rapidly fixed it."


Mr O'Dwyer, SW4
"Jamie provided friendly knowledgeable advice and is a credit to your company."


Mr Hughes, Sunbury
"Excellent customer service, I would not hesitate in recommending PGS."


Peter, Weybridge