Comments from our customers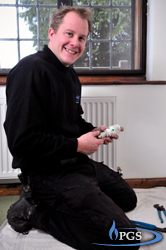 We always strive to provide the best possible service and therefore welcome your feedback. If you have any comments on our services please contact us.
We'd love to know what you think - please send in your feedback!
Below are a few quotes from PGS customers...
Job: Full central heating installation
I would recommend PGS installers to anyone. A complete system was fitted from scratch in 3 days, and both the product and the workmanship was of the highest standard. Simon and James were professional and courteous throughout, and never lost their sense of humour. Thanks also to Adrian, Bob and especially Jess in the office - who remained patient and understanding during the delays in getting my gas supply reconnected. A follow up visit to commission a gas hob was carried out equally efficiently and promptly. Visitors (including professional plumbers) have all commented on the quality of the installation.
Carolyn, Woking
Job: Central heating installation and plumbing repairs
I chose to use PGS because the engineer who visited to provide a quotation (Adrian) was clearly very knowledgeable and took the time to investigate my existing heating system properly and suggest sensible solutions to issues such as the fact my existing gas pipe was too narrow. Adrian also listened to what I wanted to achieve. PGS then provided a very reasonable quotation for the work.
I thought that Simon and James who carried out the installation of the boiler and repair to the stopcock did a fantastic job. They were both incredibly friendly, helpful, professional and efficient. The work was completed very quickly and they cleaned up thoroughly afterwards. I would be happy to recommend PGS.
Susan, Wimbledon
Job: Boiler installation
Just wanted to say thanks so much to PGS for the job you've done in fitting my new boiler. The two lads who did the job were absolutely first class throughout the day - they were both very knowledgable and courteous about what they were doing, and cleaned up everything before they left (not all plumbers I've had before have done that!)
Simon, New Malden
Job: Unvented cylinder installation
Lee and Nick arrived promptly as scheduled. The installation turned out to be significantly more complex than was originally believed due to the dimensions of the old pressurized hot water tank which made removal from the attic space problematical! The new tank's dimensions and fittings were also substantially different from the old. However they completed the installation very professionally and cleanly and were unfailingly polite throughout. Please pass on my thanks.
Tony, Chiswick
Job: Plumbing repairs
I have found all at PGS highly professional & friendly to do business
with.
Anne (Landlady with property in Tooting)
Job: Boiler (Vaillant ecoTEC) installation
Once again I would like to thank you and your colleagues, who installed a new boiler and auxiliary equipment and did nice work with pipes and wiring.
Your experts were very polite, knowledgeable and considered. They acted very professionally, worked hard and neat. When there was a technical glitch with a programmer the operators were very helpful, and engineers fixed the problem very quickly.
I am very glad that I have chosen your company for the job and would recommend it to all my friends with great pleasure and confidence.
Evgeny, Barnes
Job: Full system powerflush, radiator upgrades and plumbing repairs
We were very happy with the service and will use you again.
Mark, Purley
Job: Powerflush and installation of new boiler
I would just like to say that I was very pleased with the installation and powerflush which Jean-Michel and Nick carried out. It was all done efficiently, on time and with the minimum of disruption. Most importantly, the new boiler is working very well.
Thank you all for the good job.
Andrew, Hampstead
Job: Hot water cylinder installation
I must say that I have been very impressed with your company's service, expertise and trustworthiness throughout the immersion and cylinder problems I have had in my flat and I will most certainly use your company again should I ever need to. Your and Nick's service has been excellent always keeping me in the loop and providing detailed explanations when asked. You both seem very knowledgeable and that is comforting when confronted with heating and plumbing problems especially given that I am an overseas landlord and needed to be able to rely on your trustworthiness and expertise.
Thanks again for all your help.
Marianne, Landlady with property in SW17
Job: General plumbing and heating repairs
I am very pleased with all the work carried out from the telephone calls to the first day of assessment to the actual installation by the two engineers. The manner of the services was very professional and approachable. There were no hidden agenda with all details being list down appropriately. Thus, I had recommended your services to my neighbour at 17A and hope they too will have a good job done.
Thank and kind regards,
Mrs Wong, Croydon
Job: Combination boiler installation
We just wanted to say how impressed we've been with the service - it was incredibly fast and efficient today, and the engineers were professional and friendly. The entire service from PGS from start to finish has been brilliant, and we wouldn't hesitate to recommend your company.
Charlotte, Leatherhead
Job: Central heating boiler install
We would like to thank Jon, James and Nick for their help with installing a new boiler for our father/father in law on Friday the 9th September. Nick kindly arranged a quick job within four/five days and Jon and James worked under the most difficult circumstances. They both worked speedily and efficiently and we would have no hestitation in recommending their services to others. Thank you all once again.

Fred and Pam Hodge
Job: Bathroom repairs
Excellent service. Darren was very professional and clearly experienced in his field. He was prepared to go the extra mile to ensure that the work was completed to a high standard. He was also very careful to ensure that at the end of each day's work he cleaned up and left the rooms he was working on as tidy as possible.
Tracey, E16
Job: Repaired leak in bathroom
Just wanted to say thanks a lot for the excellent work. The guy that came round was professional, friendly, courteous and very knowledgable. I'll have no hesitation in using your guys again (number is now on my fridge) and I'll be recommending you whenever the opportunity arises. Professionals like your guy seem to be all too rare these days.
Mr Richmond, Brentford

Job: Worcester-Bosch combination boiler installation
Can I just say how pleased I am with the service from you & your colleagues. It's a shame that in Guildford it's so hard to find reliable trades people but I have been very impressed with PGS. You have responded promptly to my enquiries, been clear & up-front about the costs and timescales, and all of you have been professional and knowledgeable.
Mr Clokie, Guildford
Job: Boiler replacement and powerflush
Can I say that Simon has been brilliant last few days and James was great yesterday. Really helpful explained all that they were doing and cleaned up after themselves. Thanks for all your help.
Nick, Morden
Job: Heating system installation with Worcester-Bosch boiler
I just wanted to thank you and your installation team for doing such a good job with our boiler. It was great to have it installed so quickly, and the guys did a great job - very pleased all round - a prompt, professional and well-priced service. Thank you!
Jennifer, London E11
Job: Installation of hot water cylinder
Excellent service. Much appreciated and will always recommend.
Mr Connolly, Kingston upon Thames
Job: Installation of new Worcester-Bosch Junior boiler
May I say that I was very impressed with the estimator that I met, he was very knowledgable and really took the time to explain to me all aspects of the job so that I could make an informed decision on the optional extras and what would be included in the main work which was much appreciated.
Jo, Putney
Job: Repair leak on toilet
Thank you for fantastic fast response today! A delight - I look forward to recommending you to my friends.
Mr MacDonald, Surbiton KT5

Job: Installation of new Vaillant boiler
You are a shining example of how a plumbing firm should be! It was a pleasure dealing with all of you – Jess, Nick, Lee – many thanks. 5* company!
Gavin, London E3
Job: Following up on installation of Vaillant boiler
Thanks again for sending someone out so quickly and without charge. You really are the best plumbing company in the world. I understand the issue I have with piping now. Thanks again.
Gavin, London E3
Job: Heating installation with powerflush
Have found your fitters to be very pleasant, efficient and competent and they have always left the flat in a clean state.
Kevin, London N1
Job: Boiler repairs
Cannot fault the service....your organisation is better than sliced bread!
Mr Simon, Wembley
Job: Installation of new gas boiler
"Just a note to let you know how delighted I was with the service I received from your company. From quote to installation everyone concerned carried out their job in a most professional manner. Many thanks."
David, London NW10
Job: Gas boiler replacement (Warmfront scheme)
I was very impressed with the professionalism and dedication of all the engineers I have had dealings with. The work carried out was of the highest standard and I will have no hesitation in recommending PGS to others.
Mr Davis from Croydon, Surrey

Job: Central heating and gas boiler installation
We were very impressed with the service we received from PGS for the installation of our boiler and would like you to pass our our thanks to Adam, Tom and James who worked incredibly hard, efficiently and politely. Everything went smoothly and to time and it was great to have such professional people to deal with. We will certainly be recommending you. Many thanks.
Mr & Mrs Watkins, Kingston Upon Thames

Job: Replacement boiler installation
Hi had boiler fitted today tuesday 6 december by Adam and James, they arrived on time early am and went about the work in a very professional and polite manner. If they did encounter any unforseen problems I was not made aware of them. They cleaned up behind themselves and did not leave till late to make sure everything was working properly.
I have sent these comments straight away as I was very satisfied with all aspects of the work and especially the attitude of the team of fitters. Also I would to say that the quote I agreed to was the exact price I paid. There were no hidden extras. How refreshing.
I am pleased I chose your company. Would you please let me know your charge for yearly servicing as I would like to stay with your company.
Christopher from Carshalton
Job: Boiler and plumbing repairs
We thought that your approach to our issue was professional and thorough...We would not hesitate to speak highly of PGS if someone asked for our opinion.
Jerome from Orpington
Job: Emergency heating repairs
Just a quick note to thank you for sending out the engineer last week. He worked extremely hard and due to his thorough analysis got to the root of the main problems and sorted them out. All the best and thanks again.
Max, London W4

Job: Boiler and bathroom plumbing installation
Is there a 'Tripadvisor' for plumbing and heating jobs so that I can tell the world just how good PGS is?
George, Islington landlord
Job: Gas central heating installation
I would like to thank Jean Michel for his excellent customer service, whilst working at my home today. I have never dealt with such a professional boiler engineer before, I was shocked. Pleased pass my thanks onto Jean Michel. I would like to thank the ladies who answer your telephone enquiries, again professional extremely polite and friendly, my whole experience from start to finish with PGS has been a delight, a full 100% satisfaction, I will indeed recommend PGS to friends and family. Thank you once again.
Jeremy from London SW11
Job: Heating system installation and repairs
Thank you a) for turning up on time - this is fantastic and unheard of, and b) for producing a sauna like effect - which I am sure will be great in the winter! If you need an endorsement - dont hesitate to ask.
Everywhere was clean, tidy and.... well, warm! It was such a relief - I am sooooooo busy at work - so this was really important to me. You cannot believe how rare your service is.
Kind regards and please say thank you to the guys who installed it, they are appreciated.
Irene from SW3
Job: Plumbing and heating repairs
By the way, thank you for the prompt and high-quality service - very appreciated. Happy to give a reference about the good standard of work, it certainly helped us a lot.
Mr Clark from Esher KT10

Job: Full central heating system installation
The team which included team leader Ian as well as Steve and James worked extremely hard every day. They were kind, considerate and worked with a professionalism and care rarely seen in the workforce these days. They were also sensitive to structural and aesthetic problems encountered in such a challenging old Victorian building even fixing other problems which were not necessarily part of the remit. Their attention to detail was excellent and any questions or problems were both quickly resolved and answered comprehensively. Having been impressed I would have absolutely no problem in recommending your firm to others.
Mr Calderbank, London SE19
Job: Repair broken shower
Craig fixed our shower unit last week and a radiator valve in record time! Very happy with the service and would probably use you again if I have any more plumbing problems.
Lee, London SW16
Job: Gas boiler installation
Great job, very impressed with speed and workmanship of the work done.
Mr Lowther, Sutton
Job: Extend overflow and fit new ball valve
I just wanted to thank Ryan for the most professional way that he carried out and rectified the problem at my Mother's house a couple of weeks ago.
Jack, London N18
Job: Central heating boiler replacement
Been a while but I would like to thank you and your team for the boiler installation. The guy that turned up on the day worked all-day and did not leave until quite late ensuring that the job was finished properly, and when he called for help late afternoon it arrived prompt and sorted out his problem. Once again thank you.
Mr Lloyd, Epsom
Job: Gas boiler replacement
I just wanted to say a big thank you to your boys Ian and James . I was so pleased with their efficiency and the manner in which they dealt with installing my new boiler. They are very nice men and i would thoroughly recommend your company to any of my friends if and when they need a new boiler.
Sheila Sitton, KT20 Surrey
Job: Boiler replacement
"Thanks for your help: your guys have done a good job here, and were very pleasant, with a positive attitude that is very refreshing."
Mr Russell in SW8

Job: Gas boiler repairs
"I have called PGS out on two occasions and on both was very pleased with the quality of service. The first call was at the end of January during very cold weather. I anticipated a long delay when I called in the afternoon but the service engineer was round at 9:00 the following morning. On the second occasion (unrelated to the first fault) the engineer was round in just over an hour of my call. Thank you for your help."
Edward in Balham

Job: Blockage in internal pipework
"I am very very pleased with your engineer Jamie who called this morning. If I ever call again, I want you to send him over. He seems to understand the system so well!"
Mrs Keith in Richmond
Job: Plumbing repairs
"Natasha – just a short note to thank PGS plumbers for their work done on behalf of my mother in law in Teddington recently. I was very pleased by the way you sorted out the plumbing problem."
Mike in Teddington

Job: Gas boiler replacement
"I was pleased with the professional service provided by your company and have recommended PGS to one of my neighbours who is looking for an engineer to install a new gas fire."
David in West Molesey
Job: Boiler repairs
"I phoned at 5.30 and was promised a 8-9 am call the next day. The engineer arrived on time, was courteous, efficient and really helpful. How nice to get good old fashioned service. Thank you!"
Rosie in Kingston-upon-Thames
Job: Radiator repair work
"I've used your services and had Adrian do a blinding job both times. Nick was really helpful juggling the times too. I use you for my two rental properties as well as my own home."
Mr Welling in Addlestone
Job: Plumbing installation
"Just a short note to say thanks for the plumber that came along yesterday. Very nice and helpful young guy. Thanks. First class!"
Mr Sergeant in KT8
Job: Re-running of gas pipework
"This is to thank you for your prompt and helpful service. Your plumber was wonderfully polite and professional and did a wonderful job. The job was more difficult than predicted but he did not complain but just got on with it. Your office was friendly and efficient and I would recommend your service to my friends. Thanks again."
Mr Wright in Isleworth
Job: Boiler service
I would like to express my appreciation of the good customer service that I received last Thursday when your engineer came to service my combi-boiler. The Engineer (Jamie) turned up on time, clean and well presented - and cheerful! He was thorough and efficient, getting on with the job and leaving no mess. Jamie provided friendly knowledgeable advice and is a credit to your company. Well done for delivering excellent customer service.
Mr Hughes in Sunbury
Job: Diagnose and repair boiler fault
"I just wanted to say how efficient your company has been in fixing our boiler. The people who answer the telephone at PGS has been nothing but professional, pleasant and a delight to talk to. We will certainly use your company again - you are a breath of fresh air in an environment at present where service is not a priority. Many thanks."
Mr & Mrs Peaks in CR5
Job: New boiler installation
"I was very satisfied with the quality of workmanship. Give my thanks to those involved."
Nick in Teddington
Job: Complete central heating installation
"I want to add my sincerest thanks to you and all of your engineers. The service never failed to impress me from start to finish. All of the engineers on site acted professionally at all times and did a brilliant job. Many thanks!"
Paul in Cobham, Surrey
Job: Attend to boiler breakdown
"I'm just writing to say what an absolutely first-class job your plumber, Thomas did yesterday in fixing our heating problem. He analysed the problem in minutes, set about fixing it immediately and was thorough, professional and courteous throughout. Having used many different plumbers over the years, I have to say that he's the best I've encountered. Many thanks."
Les and Liz in Wimbledon SW19
Job: Heating system repairs and troubleshooting
"Can I just thank you for your continued efficiency and help with my property. Thank you again for getting the quote to me so quickly and we are continually amazed by the quick response that PGS offer and attention to detail - you are all truly amazing with efficient and courteous staff when speaking on the phone. Thank you again Nick - please do thank your staff again on our behalf."
Lesley, New Malden Landlady
Job: Emergency boiler breakdown
"Happy New Year to all of you at PGS. Please extend my sincere gratitude to your two engineers, initially Richard and subsequently Adrian, for the work they did when they came over when our boiler had broken down, last month. Their professionalism is immensely appreciated. I will have no hesitation to recommend any one to PGS Plumbers for heating and plumbing services."
Mr Mburaburirwe in TW13
Job: supply and fit new boiler
"Would just like to say thanks to your engineers involved in fitting the new boiler, especially Steve, a great job - fast, efficient, friendly and helpful!"
Simon in Kingston upon Thames
Job: Boiler repairs
"thanks for your fast, professional, and honest advice – which contrasts sharply (in all respects) with that received by ******* ***. You will have my future business."
Julie in Hampton
Job: Boiler fault diagnoses
"I had a problem with my boiler which I concede is old and coming to the end of its life. I had a couple of companies, including our existing supplier attend and were completely unhelpful. I found PGS by pure chance on the internet. Their engineer, Tom, turned up exactly on time, gave a clear explanation, that even I could follow, as to the problem and then rapidly fixed it. I recognise that, at 25 years plus, our boiler had seen better days and needed to be replaced. It was predominantly on the first impression, of Tom, that I am now instructing PGS (who have quoted competitively) to carry out the installation."
Mr O'Dwyer in SW4
Job: Central heating survey
"I really appreciate your help arranging for someone to come round so quickly and also for your being so patient with me on the phone...Thank you again for your help...I will definitely give you a call in the future should we need any further work done."
Michele in SW10
Job: Service and repair Powermax boiler
"Hi - A big thanks to all at PGS for your help with my useless boiler. Your efficiency in making bookings at short notice, your helpful manner and absolute honesty is a rare but welcome suprise in modern customer service. I will certainly recommend you to my friends and neighbours. Well done."
Phil, Leatherhead
Job: Boiler replacement
"Just to say I have been very impressed with your engineers and the service you have given. The initial gentleman who came for the service was excellent and helpful- as was the gentleman who was here for both the days - please pass on my thanks."
Sarah in Teddington
Job: Boiler service and repairs
"Dear PGS, Many thanks for arranging the reapair of my boiler today. It's really fantastic to have finally got rid of the noises in my heating system. Your plumber Craig did a truly fantastic job. I've already started recommending your company to others."
Mr Joseph in SW9
Job: Attend to boiler breakdown
"Just wanted to say thanks and commend the good work done by Richard to our Boiler on 21st. He was courteous and very good with his work. Please convey my compliments to Richard."
Tariq in Weybridge
Job: Supply and install new boiler
"Hi PGS, I wanted to say that the team were very professional, thorough and committed. Great service. Have recommended you already. Thanks."
Mr Jones in SW18
Job: Repairs to gas fire
"Dear PGS, I would like to pass on a big thank you to your engineer Alan. Alan provided a refreshingly efficient, friendly and highly professional service, fixing my gas fire. I am now enjoying the winter evenings again as I sit in front of my wonderful fire. Thank you."
Mr Hemsley in New Addington
Job: Boiler service and repairs
"Thanks Nick, Just wanted to thank you for a good job well done yesterday on our boiler service. Craig did an excellent job. Always nice to find a good plumber you can trust. We'll def be using you guys again, and telling our friends about you."
Phil in Putney
Job: Boiler replacement
"Many thanks again Nick for a wonderful service."
Suzanne in Wandsworth
Job: Central heating installation
"I just wanted to thank PGS plumbers for all your help with replacing my boiler. I was really impressed, especially with Gavin, who was always extremely polite & efficient & very tidy! As I work full time, he even popped over after work to explain how my new thermostat worked. I felt completely confident in him, & was able to leave him alone to get on with the job. The staff in the office were similarly helpful & sympathetic & I wouldn't hesitate to recommend PGS to friends & colleagues in the future."
Maria in Richmond
Job: Boiler service
"Your engineer just serviced our boiler and did a minor repair. I'd just like to say I was very happy with his work and good honest advice he gave. If we have any issues in future we'll definitely call you."
Jason in Tadworth
Job: Boiler and heating installation
"I would like to say I was very pleased with the work done by your installation team. They were dedicated, considered the environment they were working in and were very professional. The engineer really stood out, he came over as highly experienced, was very diligent and knew what had to be done. A job well done by the installation team. The whole experience from quote to completion was an experience that in my book 'delighted the customer'."
Mr Benson in Twickenham
Job: Central heating system powerflush
"My husband and I were very impressed with the service we received from PGS. Adrian was friendly, polite and professional. Offering sound advice without hard sell. We would definitely recommend your services to others."
Mel in Crawley
Job: Boiler installation - Warmfront scheme
"The installers were efficient, friendly and helpful"
Mr Connally in Walton on Thames
Property management services
"I have no hesitation in recommending PGS. They are consistent. They work to a high standard, provide a rapid response and charge a fair price. They can be relied upon to bring a job to a satisfactory conclusion and are always polite and well presented."
Julianna from Knight Frank - Esher
Job: Boiler and heating installation
"Dear PGS, I would like to say a very big 'Thank you' to the team who recently installed my new boiler, hot water tank and new pipes. From my initial telephone call, everything was handled so efficiently and my queries and worries were fully explained to me. The team replaced a very old system during the hottest week of the year. All work was carried out in a professional manner and I would certainly have no hesitation in recommending your team to anyone. In fact, one colleague has just confirmed acceptance of a quote from you and another colleague will be contacting you when she returns from holiday. Once again, thank you very much - with a special note of thanks to Ray who worked so hard to ensure we overcame a few problems !!!"
Mrs Magill in Chertsey
Job: Boiler replacement
"I would like to say a very big thank you to Gavinder and his assistant for doing such a great job over the weekend as they really worked hard and put in a lot hours to finish yesterday. Please pass this on to them."
Alastair from Richmond
Job: Boiler service and radiator repairs
Prompt, reliable, fair priced and friendly - What more could I ask?
Adrian in Bromley
Job: Boiler installation
"The PGS engineers were remarkably efficient in replacing our ancient boiler with a modern condensing one. It was a complicated job and they dealt with it in exemplary fashion, in just one day. The tidying up afterwards passed the Wife Inspection - quite an achievement - and the price was very reasonable. Many thanks. We will be recommending PGS to family and friends."
Mr Bentley in New Malden
Job: Plumbing & gas fire installation
"Adrian from PGS Plumbers went the extra mile for me in sorting out my tenant's leaking shower and faulty gas fire. Not only did he fit the appliances but spent a great deal of time measuring up, acquiring the appliances and even organised a tiler to finish off part of the fireplace. He was a credit to his profession and a lifesaver!"
Lesley, New Malden Landlady

Job: Gas connection and plumbing
"Thank you for the work that you have done in a short notice with regards to re-connecting the gas and the sink in my home after the installation of a new work surface. Your customer service is first class and we will use you again in the future."
Andrew in Lower Kingswood
Job: Central heating boiler installation
"When they started work they had everything they needed, were very tidy and worked all day without a break. They continued in the same manner and cleaned up everything when they had finished. We were both very pleased we had chosen PGS."
Mr Forge in Leatherhead
Job: Gas safety certificate and boiler repairs
"I recently rented my flat and needed a Gas Inspection Certificate to be done quickly as my other supplier let me down. PGS responded very quickly and carried out the inspection within one day. Repairs also needed to be carried out on the boiler which was done quickly and efficiently. provided excellent Customer service, I would not hesitate in recommending PGS."
Peter, Weybridge landlord
Job: Fitting an electric shower
"I already had the shower, just needed someone to fit it for me. PGS took my call efficiently and gave me a competitive estimate so I got one of their plumbers round. He showed up on time and was very polite. It turned out the job was easier than he had expected because there had been a shower there before so the shower was fitted in half the quoted time so I'm a happy customer."
Mrs Goodwin in Guildford
Job: Boiler installation
"We just wanted to write and say thanks for the great work you guys did on our flat. We were really impressed by the speed and professionalism shown by all of the pgs plumbers who worked on the project. We would definitely use pgs plumbers again and have already recommended them to several of our friends. Thanks again."
Claire and Sarah in Blackheath
Job: Thermostat repair work
"Have just had my thermostat repaired. Very impressed with the website and speed of response. The engineer 'Ron' was delightful."
Margaret in Croydon
Property maintenance for letting agency
"we have found PGS to be responsive and reliable when carrying out work on behalf of our clients. Their prices are competitive and reasonable and we have found the standard of work to be satisfactory and have no hesitation in recommending their services."
Louise from Richmond Bridge Residential
Job: Boiler repair
"Very efficient and friendly service. The verdict was that there was nothing much wrong with my boiler. Richard advised how to avoid the problem happening again and fixed a small leak from the boiler while he was there. An unscrupulous tradesman could have taken advantage of my ignorance. I mentioned that I never used the timer on the boiler as I had lost the instructions and given up on attempts to programme it. Richard told me he had the same model and promised to send me a copy of the instructions if he could find them. Copied instructions turned up a few days later - excellent extra mile customer service."
Denise in Croydon
Job: Repair of central heating & issue gas certificate
"The job was done in an efficient and timely manner. The plumbers were polite and kept in touch by phone and did the job when they said they would. They fixed the problem and noted a small additional problem on a radiator which they kindly fixed also. I didn't have time to do much shopping around, but I believe the price was quite competitive."
Andrew in Chelsea
Job: Service boiler
"The PGS plumber called within 10 minutes of placing the request and arrived at the property 20 minutes later! The boiler needed a part to be repaired and Richard provided a fair quote when promised. He also suggested we check the warranty on the boiler to avoid us having to pay extra, even though this resulted in the business having to go to an Alpha engineer. Extremely reliable and honest, would definitely use again."
Dan in Thames Ditton
Job: Boiler installation
"I chose PGS Plumbers to install a Greenstar boiler with Magnaclean. I was impressed by the customer focus shown by the office while making the arrangements. The plumbers were courteous and understanding throughout the installation and I was very impressed with the efficiency of the whole process. I have already recommended them to friends."
Mr Grey, Richmond landlord
Property management services
"PGS have done work for us for a couple of years now and have always proved to be trustworthy, reliable and competitive. Our clients and tenants have always spoken highly of PGS and the service provided."
Philip from Sweetings Property Management
Job: Emergency heating breakdown
"Having twice previously been advised to replace the boiler by other plumbers (at a cost of thousands) it was a relief when the PGS engineer suggested a few minor part replacements. He efficiently diagnosed the problems, let us know the cost of repair and got to work there and then. We were back up and running again within around four hours. Great service, honest and reliable. I will use PGS again and am already recommending them to my friends."
Cherry in Tadworth
Job: Extend a gas pipe and fit to cooker
"They were friendly and gave us honest advice then did the job there and then. I would definitely get them back."
Ian in Esher
Job: Hot water problem
"I had no hot water and got recommended PGS by a friend who lives locally, the plumber arrived when I was told he would, he was polite and got straight to work. After a quick inspection he let me know it needed an inexpensive part replacement. He had the part on him and was able to get it all working again quickly and without further problem. I cannot fault the service offered by PGS."
Hannah in Walton-on-Thames
Job: Leaking pipe
"I had a leak that appeared to be coming from the dishwasher and water had been leaking through to my downstairs neighbour. PGS arrived within about half an hour, explained the problem (old pipes causing loose connections), he contained the leak and then went to buy the parts. He was back very quickly and the job was done in no time at all. Quick, friendly plumber, I was happy with the service."
Tina in Teddington
Property management services
"We have always found PGS to be very helpful, reliable, flexible with arrangements – will happily collect keys or go direct to the property - and trustworthy. The standard of their work is very satisfactory, we have never received any complaints and are always happy to recommend them to landlords, sellers and buyers."
Linda from Gibson Lane
Job: Gas safety certificate
"Thank you so much for helping me out at short notice today with the Gas Safety Certificate at Addlestone. First class professional response and excellent service from Clive - well done. Will certainly use you again and thoroughly recommend you to others."
Judy, Addlestone landlady
Call now for
free advice & quotes
0203 674 1686
Enter your details below
and we will call you back.
Book Online


Enter your

postcode


for availabilty and bookings

We accept all major credit cards

"Our clients and tenants have always spoken highly of PGS and the service provided."


Philip, Sweetings
"Prompt, reliable, fair priced and friendly - What more could I ask?"


Adrian, Bromley
"They are very nice men and I would thoroughly recommend your company to any of my friends if they need a new boiler."


Sheila, KT20
"Your guys have done a good job here, and were very pleasant, with a positive attitude."


Mr Russell, SW8
"I just wanted to thank Ryan for the most professional way that he carried out and rectified the problem"


Jack , N18
"I wanted to say that the team were very professional, thorough and committed."


Mr Jones, SW18