Clapham plumbers
We provide Plumbers in Clapham (SW4) and surrounding areas, all of which are experts at fixing plumbing and heating problems. From emergency plumbing call outs in Clapham, to providing you with the cheapest and highest quality boiler installations, PGS Plumbers are ready to help.
Some of the jobs our plumbers in Clapham carry out on a daily basis are as follows...
Gas appliance installation
Heating installation and repairs
Boiler installation and repairs
Bathroom fitting
Water leaks
Powerflush
Emergency call-out, 24-hours a day
General plumbing services
You can see legitimate reviews of our plumbing work in Clapham and London on our Google Places page.
Have you serviced your boiler for the winter? It could save you from being without central heating or hot water when the temperature gets cold. Call us now for more information: 0203 674 1686.
So whether you need to fix a leaking tap, or have a boiler repaired, PGS Plumbers can provide the highest level of workmanship available.
Clapham's most reliable Plumbing, Heating and Gas Engineers.


Call now 0203 674 1686
We only employ Clapham's best plumbers and heating engineers, so you can ensure that every engineer we send out will be trained to the highest standard and possess a wealth of experience to make sure your job is completed to the highest possible standard.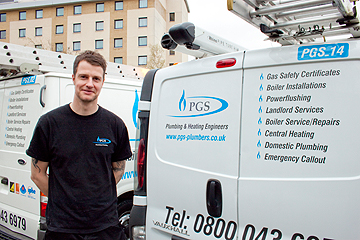 Our boiler servicing is one of the most thorough in London. A typical boiler service will check for any malfunctions and whether the boiler is operating safely. Our engineers will also clean the boiler's internal parts to ensure the appliance continues to operate reliably and safely.
PGS Plumbers also offer a range of services for property landlords including thorougher Gas Safe inspections, electronically issued Gas Safe certificates and annual boiler servicing at affordable rates.
In an emergency PGS Plumbers offer a rapid response across all of Clapham, meaning that we get to your property as soon as physically possible to fix that water leak or faulty gas appliance.

Call PGS Plumbers, your local Clapham plumbers, on 0203 674 1686 for more information.
Call now for
free advice & quotes
0203 674 1686
Enter your details below
and we will call you back.
Book Online


Enter your

postcode


for availabilty and bookings

We accept all major credit cards

"Excellent customer service, I would not hesitate in recommending PGS."


Peter, Weybridge
"I would certainly have no hesitation in recommending your team to anyone."


Mrs Magill, Chertsey
"I was very satisfied with the quality of workmanship. Give my thanks to those involved."


Nick, Teddington
"Tom turned up exactly on time, gave a clear explanation and then rapidly fixed it."


Mr O'Dwyer, SW4
"The installers were efficient, friendly and helpful."


Mr Connally, Walton on Thames
"I've used your services and had Adrian do a blinding job both times. Thanks."


Mr Welling, KT15