Information on PGS Plumbers in Ealing
PGS Plumbers serve all of Ealing with expert plumbing and heating engineers, who are fully capable a variety of installations and fixing any related fault you might have. We offer competitive rates and London's best plumbing after-sales support, so you can be assured that you're choosing the right plumber for your job.
Some of the plumbing jobs we take on in the Ealing area are:
General plumbing work
Powerflushing
Heating and Boiler Repair
Gas Safe inspections

Drains & Blockages
Central heating
Emergency response
Boiler installation
PGS Ealing plumbers are able to cater for all plumbing and heating jobs, big or small, throughout Ealing and surrounding areas.
All PGS engineers are fully Gas Safe registered, meaning that all work they carry out complies with current government safety regulations. To read more on Gas Safe visit their website at www.gassaferegister.co.uk.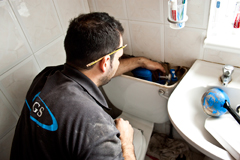 Water leaks, broken toilets, faulty taps and defunct showers are no problem for PGS Plumbers. PGS plumbers come equipped with all the tools and a wide selection of parts to be able to fix all general plumbing jobs on the spot.

We also have very tight links with plumbing merchants in Ealing so can often get parts that can't be found on the van within minutes.
PGS Plumbers also offer the unique Powerflush system.
A Powerflush is an innovative way of cleaning the inside of your entire central heating system.

Often dirt and debris builds up inside central heating systems, causing Boilers to work harder to produce enough heat for the property.

Powerflushing your system cleans this dirt away by flushing a chemical soultion through the central heating pipes and radiators, then extracting the dirt with the Powerflush machine. Doing this increases the efficiency of your central heating, increasing system life expectancy and saving you money on your fuel bills. Read more about the Powerflush on our Plumbing blog.
Call PGS Plumbers now for free advice and quotes
0203 370 0066
Call now for
free advice & quotes
0203 370 0066
Enter your details below
and we will call you back.
Book Online


Enter your

postcode


for availabilty and bookings

We accept all major credit cards

"Your guys have done a good job here, and were very pleasant, with a positive attitude."


Mr Russell, SW8
"Very efficient and friendly. Excellent extra mile customer service."


Denise, Croydon
"I was impressed by the customer focus shown by the office."


Mr Grey, Richmond
"Craig fixed our shower unit last week and a radiator valve in record time!"


Lee, SW16
"Half the quoted time and I'm a happy customer."


Mrs Goodwin, Guildford
"Excellent customer service, I would not hesitate in recommending PGS."


Peter, Weybridge