Esher plumbers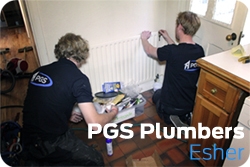 Local businesses and property owners in and around Esher rely on PGS Plumbers as we can provide the skilled engineers needed to tackle any plumbing and heating job.

From boiler installations to fixing water leaks and installing brand new bathrooms, PGS Plumbers offer highly competitive prices for the impeccably high standard of workmanship that we are proud to provide.
Customer testimonial received via Twitter...
Very wet in Esher but thanks to @PGSPlumbers for keeping my tenants warm and happy - third call out this morning for a problematic boilers

— Elizabeth Hunt (@ElizabethHunt2) April 26, 2012
We have a dedicated team of call centre staff who manage our local plumbers in Esher. Having this kind of business set up means that you will always get the high level of customer support that you'd expect from a modern plumbing company, but still have a local plumber who you'll get to know.

Being proud of the plumbing services in Esher that we provide is also the reason why we offer a labour guarantee for all the work we complete. If an unlikely fault developes as a result of our work - or you're not happy with the recent work completed - we'll come back and fix it free of charge.


Call us now to help fix your plumbing and heating problems.
0203 674 1686
Call now for
free advice & quotes
0203 674 1686
Enter your details below
and we will call you back.
Book Online


Enter your

postcode


for availabilty and bookings

We accept all major credit cards

"Adrian from PGS Plumbers went the extra mile for me."


Lesley, New Malden
"I was really impressed, especially with Gavin, who was always extremely polite & efficient & very tidy!"


Maria, Richmond
"Everything went smoothly and to time and it was great to have such professional people to deal with."


Mr & Mrs Watkins, KT2
"Craig did an excellent job. Always nice to find a good plumber you can trust."


Phil, Putney
"Very pleased with the quality of service, thank you for your help."


Edward, SW11
"They were kind, considerate and worked with a professionalism and care rarely seen in the workforce these days."


Mr Calderbank, SE19